Rumors had come to our ears that a lot of famous Lebanese actors was going to meet up to walk for a cause, so we felt obliged to support our colleagues – and perhaps get a spot in one the prestigious Lebanese gossip magazines. We also expected to be expected as we are the most famous walkers of the Lebanese internet society – we didn't even need an invitation.
However, we didn't quite know what we were supposed to walk for, but we were pleased, honored and flattered to see how the famous people of Lebanon are taking inspiration from us, and our Walk of Causes Project. Yesterday it turned out that we were walking to prevent the closing down of Masrah Beirut Theater.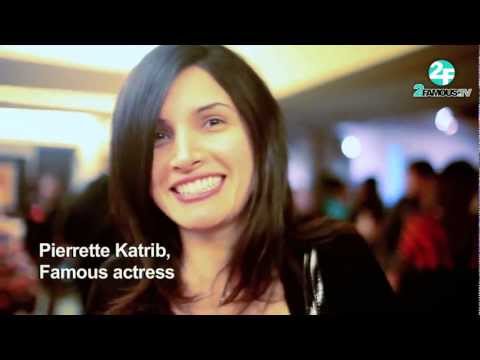 One of the main clown organizers was no less than Abbas Bayram from the Walk for Laughter organization, and a large part of the Lebanese underground clowning society showed up in support of their main stream acting colleagues. Thanks to Abbas unprecedented dedication, he is now perhaps the fastest shooting star in the international clowning world! Congratulations!
It was a glamorous night where we got to socialize with our co-star and Multi Director of Al Madina Theater, Nagy Souraty. Our good old friend Bshara Atallah, a famous actor the man behind our Viking costumes (See Viking Quest – Finally a Real Acting Job), was looking smashing in yellow, and definitely appeared like the star that he is! (Way to go bro!)
The ultra beautiful, super gorgeous, and very famous Pierrette Katrib was there to shine on the event and make every body else look… less beautiful.
To us it was kind of weird, as we felt like we were somewhere in between the clowns and the stars, because we didn't have to dress up to be with the clowns, at the same time as we are in the star league. Quite well played, if we must say so.
Jørgen & Matias Interviewed On Norwegian Extreme Sports Channel About Beirut Rooftop Workout Vids
Looks like Fatstone.TV, Norway's first Extreme Sports TV Channel, was in need of hilarious ways to work out so they featured our very own Matias and Jorgen and their Beirut Rooftop Workout Workshop videos on their website!
Fatstone.TV [more]
In-Depth With Example On Making Positive Music The Branding of EDM & His New Album
– Full-length interview with the producer of this summer's biggest hits.
– BONUS VIDEO! Crowd Cam from Example's performance at Hove!!!
Today marks the UK release of Live Life Living, the fifth album of Brit musician Example. Sure we had never heard of him before despite his whopping 2 million followers on Twitter and 25 million listens on Spotify, but Example already knows that.
"In Norway people know my songs more than my name, when I tell them I'm Example they're like '... [more]
RAPPER ARIF READY TO DIE FOR THE MUSIC
– Catch the show tonight so he doesn't have to
"We'll be stage diving and shit, so hopefully I won't break my knee or neck, I don't want to die. Ok, If I could choose to die I'd rather die on stage then somewhere else…" Rapper Arif told 2famous.TV, as we discussed being a local superstar, what festivals like HOVE mean to Norwegian artists and what we should expect from his show tonight.
Ye... [more]
Highlight from Hove, Bastille crowd camera video
Some of the artists at the Hove festival OWNED the audience, and Bastille was definitely one of the highlights. With complete crowd control they moved thousands of Norwegian teenagers to synchronized madness. It was one of those experiences that will live for ever on hundreds of Instagram accounts. (Most of the kids here says that they don't remember the festival from day to day). [more]
MIA WAS M.I.A. A THROUGH THE FENCE INTERVIEW: EARL SWEATSHIRT
HOVE goes hardcore when L.A. rapper hits the stage
Earl Sweatshirt, who hails from my hometown adjacent city of Los Angeles (well, as you'll see in the video, even if L.A. is the easiest point of reference on the international scene, if you grew up in the 'burbs, never tell people who are actually from L.A. that you're from there, because they will call your Orange County ass out so fast), shook the AMFI stage with some hard-... [more]
THE BUSY TWIST YOU ALL MISSED OUT And...SO DID WE
As the 2famous crew sat on the beach, contemplating life and looking out onto the horizon, distant tribal beats were calling our names. We had to get to where ever that music was coming from. The 20-minute journey from the beach to the stage was playing was dramatic…we were walking fast in fear that The Busy Twist... [more]