"They didn't play Civil War!" exclaimed a disappointed 2famousTV fan.
"You think they should've capitalized on the opportunity?" I asked.
"Well yeah! It's relevant here [in Lebanon]."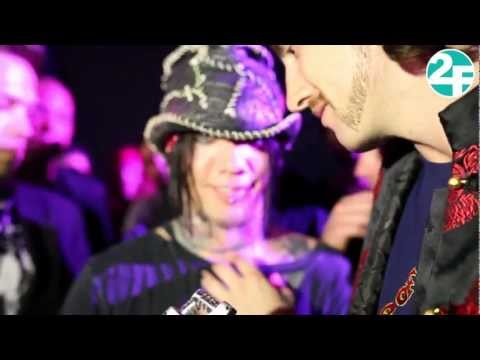 My own intuition had me thinking that not playing the song Civil War was a courteous thing, but there were definitely some local fans (of Guns N Roses) who felt otherwise. I thought it was a much safer bet to bank on playing the Lebanese national anthem (which they did), than a song that relates to darker days in history. Ironically, however the loudest crowd sing-along of the night was not the Lebanese national anthem, or a Guns N Roses classic, it was Axl's cover of Pink Floyd's Another Brick in the Wall.

Regardless of what songs people did or did not want to hear, Saturday's show at the Forum de Beyrouth was surprisingly decent. The set list was a medley of legendary classics like November Rain and Welcome to the Jungle, which were performed with pretty impressive energy and precision. While I grew up listening to GnR, I never quite understood why Axl Rose was held up as this "mesmerizing" front man. After Saturday's show I now at least have some idea. Basically, when a song begins Axl has this way of demonstrating that he's exercising restraint; like restraint from freaking out and beating the shit out of everyone. As the tension in the song builds and climaxes he rushes to the front of the stage and lets out his infamous raspy screams over a wall of epic guitar noise. When this dynamic is repeated multiple times in classics like Don't Cry and Live and Let Die (originally by Paul Mcartney) it all begins to make sense.

Now, I'm not saying this show paralleled anything in the 80's (not much does), and it was not the real Guns N Roses anyway. However, standing in an arena with 10 000 screaming fans, Axl's surprisingly intact voice, and a massive wall of amps gave me an idea of what all of those dudes in the 80's were talking about.

In true Axl fashion, he didn't turn up at the post-concert meet n greet session. Instead Axl's supposedly plastic face and infamous attitude became a topic of drunken conversation. Even in a city like Beirut, where plastic surgery is said to be widely popular, Axl looked a little…well…"different." However, if we're honest, if we're really honest, the vast majority of us would have been totally over the moon if Axl had come to hang out after the show. People would've taken photos, and then 20 years later (when Axl still looks exactly the same) be like, "Yeah, back when Axl played the Forum in 2013, I hung out with him backstage. Check my Facebook, the pictures are there… but you know he's really just a normal guy, so it was cool. No big deal really."
Wanton Rocks the Park, While The Incompetents are too Wicked for the masses!
Wicker Park: A Festival for both hot birds and music nerds
This past weekend, the 3rd annual Wickerpark Music festival took place on the shores of the turquoise beaches of Batroun. The festival is a yearly showcase of some of the top acts in Lebanese rock n roll, which seeks to promote Lebanese music along with environmental causes. While many festivals in Lebanon have been cancelled in recent weeks because of ongoing political bullshit, Wickerpark wi... [more]
John Mcafee Makes Software Geeks Proud
– Watch the extravagant video of the fucked up high life of the anti virus Guru
Behind every cool website, movie, and music album is a tech genius who makes all of the backend stuff happen. While they usually get little fame and glory, without them none of these projects would be what they are. 2famous is exactly the same. Jorgen Ekvoll Knut O. are the behind the scenes masters pulling all of the strings and making 2famous the sexiest, most efficient website in the Middle... [more]
Beaches, Meat Mafia
"Adventures" on the Mediterranean Island of Corsica
Corsica is one of those places that most people would never think to travel to. It's an obscure island outpost of France in the Mediterranean Sea stereotyped for its fiercely independent people and militant separatist culture that routinely tells France to get fucked. It has the highest per-capita murder rate in Europe, has a severed head on its flag, and the mafia runs everything. It&rs... [more]
Syria in Better Times
A nostalgic homage to one of our favorite towns in the whole world
If you're a foreigner who's been living in Lebanon the chances are you have ventured to Syria at some point before the political situation descended into utter tragedy. For myself, and many people I know in Lebanon, Syria is not some far-flung wild country that is the center of everything wrong with humanity, no matter what people in Beirut try to tell us (history can be complicat... [more]
Interview with Mr. PARTY Cyril of Underrated
A few weeks back, Cyril from Underrated productions approached 2famousTV. He told us about a new party concept he and his crew were creating and promoting called "Stereo Club Nights." Basically, they are the uber cool, refined, and dare I say classy club parties with an emphasis on Deep House music.They are being held on May 11, 18, 25 and June 1 at Solea V Rooftop in Beirut.
<...
[more]
A Sex Proposition in Pakistan
Time: September 2006Location: Pakistan, somewhere on the road between Peshawar and Islamabad
It was Ramadan, the Islamic holy month when the faithful fast during daylight hours. It was late afternoon and I was on a comfortable air-conditioned bus somewhere between the city of Peshawar, on the Afghan frontier, and the capital Islamabad. The luxurious bu... [more]