This week Matias and Adrian welcome two spectacular Beiruti bands into their studio: Postcards and Alan's Trio, in addition to Nour Sobh who explained his newest invention, the foldable, recycled CYCLOPSE bicycle which you can support on Zoomal!
Both Postcards and Alan's Trio have only been performing for less than a year, yet possess a depth of sound and lyrical strength like veterans!
Alan's Trio performed as a duo with their laid-back bluesy style and are currently competing in The Next Big thing contest. Listen to their interview and performance and check them out this weekend at The Quadrangle in Hazmiyeh! *Anyone going to this show, please inform Adrian as she still needs to pick up her payment from her dubbing performance.

Postcards, fronted by Julia Sabra, is a full-bodied band reminiscent of Fleet Foxes with their robust harmonies and variety of musical instruments. Below, they perform "Oh the places we will go" which is about one day leaving Beirut and travelling the world, they told us.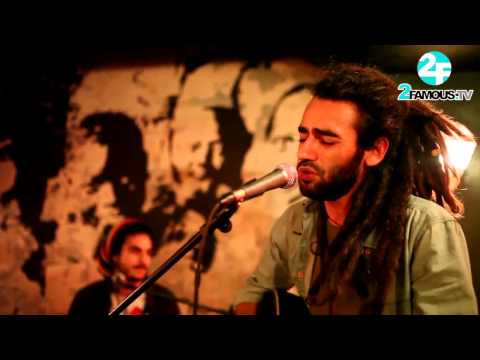 Listen to our radio show LIVE every Friday on radiobeirut.net/listenlive
18:00 Beirut// 17:00 Europe // 11am EST // 8am PST
Hot Lebanese Model-Rapper: "It is about to be a great year!" Have We Found Our Summer Hit?
While Gaza is under attack and God only knows what is going down in Syria, Lebanese Rapper Kiki C released her single "The Mediterranean," in which she raps "It's about to be a great year!"
Cleverly enough Kiki C, the rapper who sounds like Ke$ha but still looks like an Arab porn popstar, avoids mentioning who this is 'about to be a great year' ... [more]
Admiral P, Store P or ONKLP? Who is the Original P in Norwegian Music?
An ivestegatory video report about who is the Original P of Norwegian Music!
Since moving back to Norway after 4 years in Lebanon, a lot has happened on the music front. Before I had only heard about one P in Norwegian music and that was ONKLP. Nowadays we also have Admiral P and Store P (there is actually a guy called Tande P too but he has gone missing), so it is bit complicated to find out who is the Original P. We made a mini documentary to find out!
In th... [more]
Thousands of Norwegians Almost Froze to Death After Accepting Hazardous Facebook Challenge Am I Next?
– How to get your blood pumping in the richest country in the world!
For the past few weeks, my Facebook feed has been flooded with videos of people from the North of Norway throwing themselves into super cold ice water.
The viral Facebook challenge to "Film yourself while you jump into the freezing water and challenge your friends to do the same" exploded causing thousands of people from the north of Norway to look death straight in the ey... [more]
Sick and Tired of Lebanon? But Can't Get a Visa Anywhere Cool? This Could be The Solution For You!
Sick and tired of Lebanon – But can't get a visa? This could be the solution for you!
If it's because of the slow internet, the lack of possibilities, the Syrian spillover or the never ending increasing danger of sectarian violence that makes you want to leave Lebanon, this alternative could be YOUR chance to get out of Lebanon and get a "fresh" start, som... [more]
"My Grandmother Did Not Die To Provide Cover For Israelis Murdering Palestinian Grandmothers"
Jewish British MP Sir Gerald Kaufman discussing the situation in Israel!
"Most of my parents' families – because my parents came here as refugees – most of my parents families were murdered in the Holocaust. When the Germans came to the town from which my mother came in Poland, Stachov, they lined up all the Jews to march to the railway station to be put in cattle-wagons. But for those who were not well enough to march, they killed them on t... [more]