On November 15th our radio show focused on artists from Syria with interviews and performances shedding light on what it is to be a refugee — or not — and influences from the homeland.
Our first performance came from LaTlateh, a band comprised of our show's own sound engineer Khairy, alongside bandmate Darwish, and Bou Kalthoum — who was absent. Young prodigy, Hello, Psychaleppo! also took to the stage after an illuminating chat in the studio.

Khairy from Damascus and Darwish from Homs moved to Beirut eight and twelve months before we met them, respectively, having uprooted everything because of the Syrian war whose end is still nowhere in sight. They formed LaTlateh with one more musician, Bou Khalthoum, making a trio and a play on words: In Arabic, latlateh means gossip. Insert a pause and add a different emphasis and you get La Tlateh which means "The Three."
Preferring a humble performance, the guys stayed below the stage at crowd level, and started off by explaining that each member sings or raps the song he writes himself. Today Darwish took to the mic, rapping a song entitled Homs while Khairy beatboxed and played guitar.
When asked if he writes about the situation in Syria, Darwish explained "The revolution touches us everyday. It's not just a decision to talk about it, it's the truth. People are suffering and dying."
But the question of identifying as a refugee is a complicated subject. Khairy acknowledged that he couldn't go back to Syria, at the same time he's not living off aid and doesn't even come close to living in the same conditions of the millions of refugees living in camps. "I don't know," he stammered, "it's hard to call myself a refugee when I don't have it as bad as many of the refugees do."
Darwish also breaks it down to connotation. "It depends on your definition of the word," he said, "I have a really good living situation, I'm working, earning money, playing shows, and living normally. But on a human level, we're all refugees." Aren't they though? A refugee is simply 'A person who has been forced to leave their country in order to escape war, persecution, or natural disaster." There is no distinction on their quality of life afterwards, but it seems they sense a bit of guilt in comparison to their compatriots who are living in much worse conditions. It is in this refuge that they were able to form a band and make music about their country, at least.
Here is LaTlateh performing 'Homs'.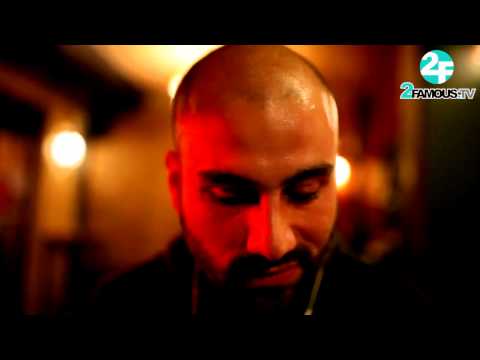 Hello, Psychaleppo! is the musical project of Samer 'Zimo' Eldahr a 25-year-old art student and music producer from Aleppo. Three years ago in his hometown, conjured up the enticing name while experimenting with downtempo electronic music. His experiments led to completion of his first album.
His second album, Gool L'Ah, is a mix of Arabic shaabi music — the kind of music Zimo grew up with — woven into his own electronic beats. "My music is a fusion of Tarab samples and my own electro sounds. The whole musical project wasn't that serious until I released it online and people loved it. I got a lot of great feedback."
If he could, he'd still be in Aleppo but now that Zimo took up residence in the Lebanese capital he's happy, and so are his fans, "I love Beirut. It's the city that made me continue my music. The people here really appreciate my work, and I love that," he said before he took to the stage to perform a new song. A small crowd formed in anticipation of this precise performance, an indication that the young star is building an audience, a following, and a solid future in music.
Below, a new song that will be part of his live set. It is sampled with Iraqi shaabi music.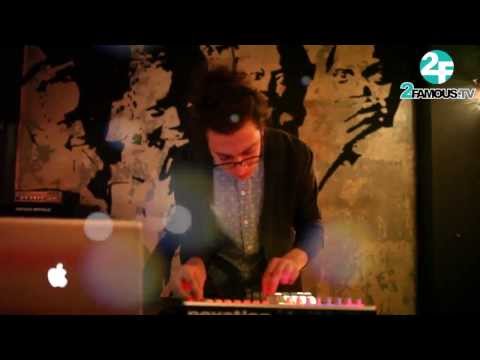 Canadian Synthpop Through Lebanon's Lens An Interview w/ Director of Electric Youth's 'Runaway' Video
Electric Youth, cherished in my heart for their dreamy electro sound and renowned for their song 'A Real Hero' on the Drive soundtrack, just released a video for 'Runaway' which is directed by Noel Paul and cast and shot in Lebanon.
Noel as you remember, was our [more]
From Radio Beirut to Radio Nova Our Norwegian FM Debut: Radio Bla Bla
"We've had to cut out a lot of shit to get here"-Adrian
Back when Layal and I started our own radio show we broadcast through a spotty Internet source at our favorite local beer joint in Beirut.
While hardly anyone in Lebanon had good enough Internet to stream the show, and those outside Lebanon couldn't rely on the weak stream to listen either, we were lucky enough to have the space, equipment, and support to try our hands at somethin... [more]
Lebanon's Wickerpark Music Festival 2014 Everything You Need to Know About The Beach Party Weekend
Camping, off-festival events, environtmentalism, and the biggest acts in Lebanon
"It doesn't get better than Wickerpark." says Philippe Manasseh, lead singer of last year's Canadian-Lebanese headliner Wake Island, and recent member of How Sad, also part of the 2014 lineup.
For the fourth year in a row, Junior Daou and his family open their large swath of land for a day of music, art, a... [more]
At Least Dubai Acknowledges Unconventional Beauty Kicks Tatted Man Out For "Black Magic" More Like He was Too Sexy!
-But Berlin DJ predictably denied into Lebanon for Israeli stamp
You know what, I'm glad the Middle Eastern Gulf region is taking into account all kinds of sexy when it comes to deporting men.
Because the most recent deportee is a 55-year old German man, Rolf Buccholz, internationally known for holding the Guinness World Record in having the most body piercings.
Buchholz flew to Dubai to party it up at Circque le Soir, a club that pro... [more]
Lofoten in All Its Glory My Summer Vacation in the North of Norway
Norwegians are the masters of understatement. When something is gargantuan, they'll say 'It's a bit big' and when something's breathtakingly beautiful, they'll say 'It's nice.' If a friend made a $10 million profit on a business deal, they'd claim he made 'a bit of money.'
I still don't understand whether it&... [more]
An Imaginary Interview With Bleachers! After an Intimate Concert at a Huge Festival in Norway
-I was the only dancer and they noticed
.viddid_thumb { overflow: hidden; }
It All Started With Lena Dunham
In March my sister, Margaux, sent me a Youtube video with a perfectly succinct message: "This is Lena Dunham's boyfriend. She directed the video." Dunham's boyfriend is the guitarist of Fun and start... [more]