This week had its ups and downs with the most obvious being the latter, a twin-suicide attack on the Iranian Embassy in Beirut. We brought in guests to inform us about it as well as give us a robust range in perspectives on the matter, from rapper Chyno who just released a song about suicide-bombing to Molly Crabapple, a visiting American artist. On the bright side, Adrian and Matias tested out brand new vintage mics flown in from Sweden in their Radio Beirut studio.
First we welcomed Habib Battah, investigative journalist and author of Beirutreport.com, who informed us about the Iranian embassy bombing this past week. The twin suicide-bomb that demolished the embassy killing 23 people and leaving 146 injured, is one of the first recent tragedies that has spawned an actual investigation by the country. This is an important sign to notice, as other bombings in Lebanon have been swept under the rug with no investigations or further inquiries, especially regarding the culprits.
He also discussed the growing violence against journalists in Lebanon. Recently, Battah was photographing ancient ruins of a Hippodrome that was set to be filled in and destroyed to make way for a new building. While taking pictures on his phone Habib was assaulted and forced to delete the pictures, in hopes of keeping the general public unaware of the secret demolition of Lebanon's 2 thousand-year old structure. Because of wide-spread censorship like this, investigative journalism does not have much of a presence in Lebanon.
Kameh is originally a duo headed by Hussein and Ziad, but joined in the studio with Ghiath on percussions and Hisham on oud. On the show Matias asks why they attach themselves to an American-style descriptor such as "Southern" but they countered him with the fact that some of the members are from Southern Lebanon, which they consider a very defining feature of their music especially regarding inspiration and language, #takethat. I'd describe it as Bob-Dylan style vocals with beautiful Arabic features in the music due to the oud and the cajon. Guitarist Ziadsums it up as "blues jazz with reggae." When asked how the 'situation' affects their music, they replied that Monday's bomb literally affected their music because their own recording studio is located in the neighborhood of the attack.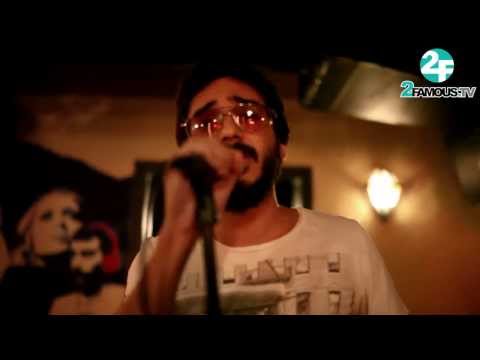 Reine Farhat, the Arabic editor of Wamda told us the truth about startups in the Middle East. No one says it's easy, not even in Silicon Valley, so speaking honestly starting a new company is difficult but possible — mostly in part to thanks to organizations like Wamda that have created a platform to encourage entrepreneurs, link investors with startups, and publish relevant daily news on the tech scene in the Middle East.

Molly Crabapple, illustrator, artist, and writer from New York City hung out to sketch performers on our show and chat with us. Previously, Molly visited Guantanamo Bay as one of the only artists given access to report on it. She reflected on her first day in Lebanon when, on a mission sketching refugees in Tripoli, she heard about the bombs in Beirut. "I get there and we've already heard about the suicide bombing at the Iranian Embassy and behind me are these explosions so I shrink behind a car and everyone starts laughing because it turns out they're fireworks." Her work from LEbanon will appear on medium.com.

And rapper Chyno sat with us to talk about how eerily relevant his recent single has been in light of Monday's bomb attack on the Embassy. The song O.P.P which was released at the end of October captures the inner-struggle that pushes a person to finally become a suicide bomber.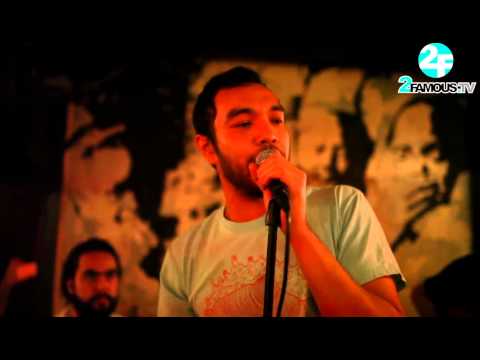 "People are telling me 'Oh you're relevant now' which doesn't exactly make me happy but it does make people reflect on the music for a second," Chyno admitted. The video's director, Pedros Temizian, also joined us to discuss how the video came to be. Chyno reveals "Pedros always wanted to do a hip hop video so I said 'let's do this' and gave him a list of songs to choose. He chose O.P.P," showcasing Temizian's tendency towards darkness.
Canadian Synthpop Through Lebanon's Lens An Interview w/ Director of Electric Youth's 'Runaway' Video
Electric Youth, cherished in my heart for their dreamy electro sound and renowned for their song 'A Real Hero' on the Drive soundtrack, just released a video for 'Runaway' which is directed by Noel Paul and cast and shot in Lebanon.
Noel as you remember, was our [more]
From Radio Beirut to Radio Nova Our Norwegian FM Debut: Radio Bla Bla
"We've had to cut out a lot of shit to get here"-Adrian
Back when Layal and I started our own radio show we broadcast through a spotty Internet source at our favorite local beer joint in Beirut.
While hardly anyone in Lebanon had good enough Internet to stream the show, and those outside Lebanon couldn't rely on the weak stream to listen either, we were lucky enough to have the space, equipment, and support to try our hands at somethin... [more]
Lebanon's Wickerpark Music Festival 2014 Everything You Need to Know About The Beach Party Weekend
Camping, off-festival events, environtmentalism, and the biggest acts in Lebanon
"It doesn't get better than Wickerpark." says Philippe Manasseh, lead singer of last year's Canadian-Lebanese headliner Wake Island, and recent member of How Sad, also part of the 2014 lineup.
For the fourth year in a row, Junior Daou and his family open their large swath of land for a day of music, art, a... [more]
At Least Dubai Acknowledges Unconventional Beauty Kicks Tatted Man Out For "Black Magic" More Like He was Too Sexy!
-But Berlin DJ predictably denied into Lebanon for Israeli stamp
You know what, I'm glad the Middle Eastern Gulf region is taking into account all kinds of sexy when it comes to deporting men.
Because the most recent deportee is a 55-year old German man, Rolf Buccholz, internationally known for holding the Guinness World Record in having the most body piercings.
Buchholz flew to Dubai to party it up at Circque le Soir, a club that pro... [more]
Lofoten in All Its Glory My Summer Vacation in the North of Norway
Norwegians are the masters of understatement. When something is gargantuan, they'll say 'It's a bit big' and when something's breathtakingly beautiful, they'll say 'It's nice.' If a friend made a $10 million profit on a business deal, they'd claim he made 'a bit of money.'
I still don't understand whether it&... [more]
An Imaginary Interview With Bleachers! After an Intimate Concert at a Huge Festival in Norway
-I was the only dancer and they noticed
.viddid_thumb { overflow: hidden; }
It All Started With Lena Dunham
In March my sister, Margaux, sent me a Youtube video with a perfectly succinct message: "This is Lena Dunham's boyfriend. She directed the video." Dunham's boyfriend is the guitarist of Fun and start... [more]