While it's still important to focus on news of our neighbors in the region, we at 2famous.TV want to brighten your holiday season with beautiful music. Merry Christmas everyone!
Our Christmas gifts to you are these never before seen videos (that Matias makes!) of superstar musicians performing on our weekly Radio Show.
Here is Charlie Rayne, young singer-songwriter, covering the poignant song I no Longer Hear the Music by The Libertines.
A few shows ago, we were blessed with an impromptu performance by world-famous Arabic rock band, Jadal. They literally touched down in Beirut and on their way to catch up with friends and grab a beer, gave us the gift of their raw beautiful music. Thing song is called Salma.
This song Jazira, by Zeid Hamdan was dedicated to all of the refugees. Thank you Zeid for your beautiful music and your touching lyrics. Not to mention the energy and love you brought to our show!
Syrian Rock stars Tanjeret Daghet also came to our RadioShow and played this song!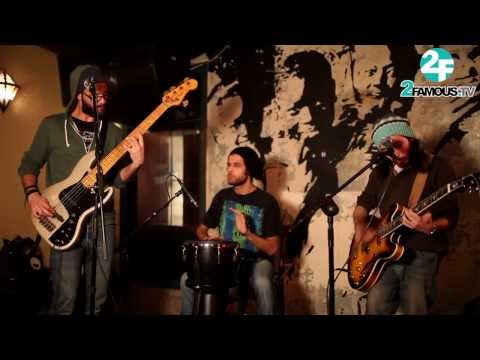 I would just like to say that I hope you enjoyed my artistic endeavors with painting the logo. As we all know, I'm no artist, and everyone else on the team is busy celebrating their holiday so I was left with no one but myself. And you know what, I did it! I couldn't have imagined a more beautiful X-mas logo. This just means that anything is possible. Don't hold yourself back if you think you can't do it, fulfill your dreams! -Adrian
Merry Christmas!
Jørgen & Matias Interviewed On Norwegian Extreme Sports Channel About Beirut Rooftop Workout Vids
Looks like Fatstone.TV, Norway's first Extreme Sports TV Channel, was in need of hilarious ways to work out so they featured our very own Matias and Jorgen and their Beirut Rooftop Workout Workshop videos on their website!
Fatstone.TV [more]
In-Depth With Example On Making Positive Music The Branding of EDM & His New Album
– Full-length interview with the producer of this summer's biggest hits.
– BONUS VIDEO! Crowd Cam from Example's performance at Hove!!!
Today marks the UK release of Live Life Living, the fifth album of Brit musician Example. Sure we had never heard of him before despite his whopping 2 million followers on Twitter and 25 million listens on Spotify, but Example already knows that.
"In Norway people know my songs more than my name, when I tell them I'm Example they're like '... [more]
RAPPER ARIF READY TO DIE FOR THE MUSIC
– Catch the show tonight so he doesn't have to
"We'll be stage diving and shit, so hopefully I won't break my knee or neck, I don't want to die. Ok, If I could choose to die I'd rather die on stage then somewhere else…" Rapper Arif told 2famous.TV, as we discussed being a local superstar, what festivals like HOVE mean to Norwegian artists and what we should expect from his show tonight.
Ye... [more]
Highlight from Hove, Bastille crowd camera video
Some of the artists at the Hove festival OWNED the audience, and Bastille was definitely one of the highlights. With complete crowd control they moved thousands of Norwegian teenagers to synchronized madness. It was one of those experiences that will live for ever on hundreds of Instagram accounts. (Most of the kids here says that they don't remember the festival from day to day). [more]
MIA WAS M.I.A. A THROUGH THE FENCE INTERVIEW: EARL SWEATSHIRT
HOVE goes hardcore when L.A. rapper hits the stage
Earl Sweatshirt, who hails from my hometown adjacent city of Los Angeles (well, as you'll see in the video, even if L.A. is the easiest point of reference on the international scene, if you grew up in the 'burbs, never tell people who are actually from L.A. that you're from there, because they will call your Orange County ass out so fast), shook the AMFI stage with some hard-... [more]
THE BUSY TWIST YOU ALL MISSED OUT And...SO DID WE
As the 2famous crew sat on the beach, contemplating life and looking out onto the horizon, distant tribal beats were calling our names. We had to get to where ever that music was coming from. The 20-minute journey from the beach to the stage was playing was dramatic…we were walking fast in fear that The Busy Twist... [more]