On the day of the Downtown Beirut Bomb we had invited Super Star Polly, Hip Hop Legend Edd Abbas, The Unplugged Poets and up and coming Lebanese/Canadian rock band, Miles Stone.
– "I don't want to be a hostage to the situation, and if we were to cancel every time these things happened we would never get to perform," Poly tells us.
Edd Abbas, who started with hip hop lyrics in Arabic in Lebanon, tells us that the Downtown Beirut Bomb makes him want to write music. Although everyday is somehow like this.
Most prepared of all guests were The Unplugged Poets who had wasted no time by writing a song about the bomb and the situation on the same day it happened!
The young rockers from Miles Stone live in Canada but tell us they want to came back to Lebanon and "make things right"!
The show was hosted by Matias and Christine and
Super shout out to Khairy for Epic sound engineering under difficult conditions.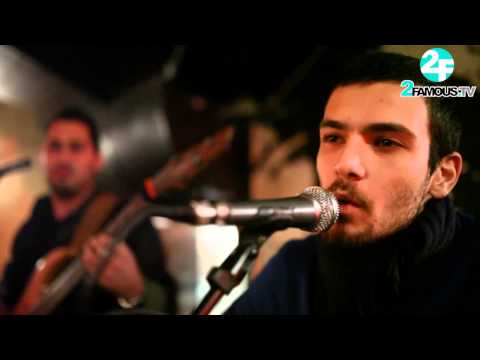 SOMETIME by The Unplugged Poets
[Chorus]
Sometimes it's hard for us
Sometimes it's hard for us
Sometimes it's hard for us
Sometimes it's hard it's hard it's hard it's hard it's hard
[Verse 1]
Bumping that TUP in the background
Sipping on some J.D. to kill my frown
Cause I know the truth hurts
And I know our situation is somewhat a curse
Hoping my verse will wake you up get you out and about
Get you on your feet and out of the house
Walk around your city like a king or queen
Try to do good things and stop feeding the machine
Keeping it real is what I do, I be acting like a fool
Blasting Foo Fighters in the BMW
X3 baby please don't be mad at me
I don't want to be a product of society
TUP till I lay down and die
Keep it positive is my favourite battle cry
That why I'll be always laughing like a clown
In this concrete jungle we all Marleys in town
Yeah I know that we lack education
And I know that we need reparations
But we gotta stop blaming others and blame ourselves
After all nothing's change and we still in this hell
Oh well, I guess we all deserve this
Tell me why we point our fingers while our hands are the dirtiest
I know it's not easy for us, this world's a cell and I can tell that it's hard to trust
Your neighbour, danger in the vapours, while all you tryna do is get your paper
[Chorus]
[Verse 2]
B E I to the R U T
The city of saints and blasphemy
I'm just going with the flow, sit back and lay low
While my pyroclastic flow, goes with your indoor
Oh no officer don't blast my front door
My friend just got caught like a week ago
And I promise I'll stop the rap if you answer me this
Why is the pen weaker then your muscles and fists?
They say it's mightier then the sword but of course we thank the lord
Cause our people don't need it, ignorance galore
Now don't you think that i'm about to start a fight
It's just finding it hard not to laugh with all my might
Cause I'm right and your wrong, and I just put it all in a song
While you listening to shit i'm bumping hits from the bong
And now you pulling the trigger
Cause now I'm raising my finger
[Chorus]
Hot Lebanese Model-Rapper: "It is about to be a great year!" Have We Found Our Summer Hit?
While Gaza is under attack and God only knows what is going down in Syria, Lebanese Rapper Kiki C released her single "The Mediterranean," in which she raps "It's about to be a great year!"
Cleverly enough Kiki C, the rapper who sounds like Ke$ha but still looks like an Arab porn popstar, avoids mentioning who this is 'about to be a great year' ... [more]
Admiral P, Store P or ONKLP? Who is the Original P in Norwegian Music?
An ivestegatory video report about who is the Original P of Norwegian Music!
Since moving back to Norway after 4 years in Lebanon, a lot has happened on the music front. Before I had only heard about one P in Norwegian music and that was ONKLP. Nowadays we also have Admiral P and Store P (there is actually a guy called Tande P too but he has gone missing), so it is bit complicated to find out who is the Original P. We made a mini documentary to find out!
In th... [more]
Thousands of Norwegians Almost Froze to Death After Accepting Hazardous Facebook Challenge Am I Next?
– How to get your blood pumping in the richest country in the world!
For the past few weeks, my Facebook feed has been flooded with videos of people from the North of Norway throwing themselves into super cold ice water.
The viral Facebook challenge to "Film yourself while you jump into the freezing water and challenge your friends to do the same" exploded causing thousands of people from the north of Norway to look death straight in the ey... [more]
Sick and Tired of Lebanon? But Can't Get a Visa Anywhere Cool? This Could be The Solution For You!
Sick and tired of Lebanon – But can't get a visa? This could be the solution for you!
If it's because of the slow internet, the lack of possibilities, the Syrian spillover or the never ending increasing danger of sectarian violence that makes you want to leave Lebanon, this alternative could be YOUR chance to get out of Lebanon and get a "fresh" start, som... [more]
"My Grandmother Did Not Die To Provide Cover For Israelis Murdering Palestinian Grandmothers"
Jewish British MP Sir Gerald Kaufman discussing the situation in Israel!
"Most of my parents' families – because my parents came here as refugees – most of my parents families were murdered in the Holocaust. When the Germans came to the town from which my mother came in Poland, Stachov, they lined up all the Jews to march to the railway station to be put in cattle-wagons. But for those who were not well enough to march, they killed them on t... [more]