On the day of our most hectic radio show yet (at that time), we were surprised and honored to spontaneously welcome JadaL to our stage. As they set up their impromptu set I started to ask questions but the interview timing wasn't right so I caught up with them after, with the questions below.
A renowned Arabic rock band from Jordan, Jadal has seen fame since 2003 with their alternative approach to music in the Arab world. Mahmoud Radeideh is the lead composer and writer while Ahmed Zou'bi is the voice of the group. I asked Radeideh a few questions about his band through email and this is what he had to say.
The name JadaL means "controversial" in Arabic — have you had any controversies as a band in the Middle East? Or anything get you guys in trouble?
The controversy was generally in the style of music which in 2003 wasn't common — Arabic Rock.
Your style has been described as "groundbreaking" because you mix Arabic and rock — did you know that you were doing something so unique at the time? How did you come up with this sound?
Well back in 2003 it was a new thing, people weren't used to these kind of songs yet. That's why we started with a rearrangement of Abdel Haleem's song "El Toba" so people would know what to expect when we started releasing singles that.
Does what's going on in the Middle East — the Syrian civil war and Arab Spring affect your music?
I write about what influences me personally. Social and humanitarian matters do influence me. There's so much lying in politics, I once wrote about how politics is a big lie, but the song wasn't released or even performed yet. I don't feel like riding that wave anyway, unless I get influenced of course!
How is freedom of speech protected or not protected in Jordan?
Since I only write about society, personal, and humanity matters I don't face any issues. Even people who sing about politics or to be specific about the Jordanian issues don't usually face issues, as long as it's constructive criticism.
Lastly, do you enjoy performing in Beirut?
Of course! It was fun when we performed in 2010 and recently in 2013. Even though they say the Lebanese crowd isn't an easy one, we didn't face any problems and it's always fun! Maybe they like us?
I know they do! Here is the video of JadaL performing their greatest hit, Salma, live on our radio show.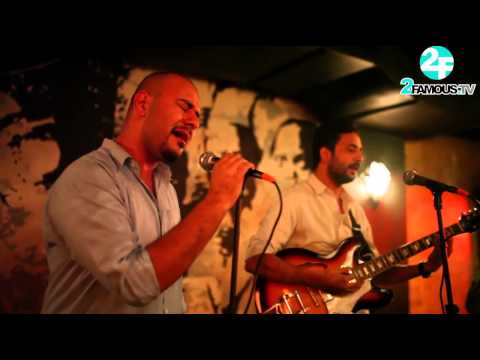 Canadian Synthpop Through Lebanon's Lens An Interview w/ Director of Electric Youth's 'Runaway' Video
Electric Youth, cherished in my heart for their dreamy electro sound and renowned for their song 'A Real Hero' on the Drive soundtrack, just released a video for 'Runaway' which is directed by Noel Paul and cast and shot in Lebanon.
Noel as you remember, was our [more]
From Radio Beirut to Radio Nova Our Norwegian FM Debut: Radio Bla Bla
"We've had to cut out a lot of shit to get here"-Adrian
Back when Layal and I started our own radio show we broadcast through a spotty Internet source at our favorite local beer joint in Beirut.
While hardly anyone in Lebanon had good enough Internet to stream the show, and those outside Lebanon couldn't rely on the weak stream to listen either, we were lucky enough to have the space, equipment, and support to try our hands at somethin... [more]
Lebanon's Wickerpark Music Festival 2014 Everything You Need to Know About The Beach Party Weekend
Camping, off-festival events, environtmentalism, and the biggest acts in Lebanon
"It doesn't get better than Wickerpark." says Philippe Manasseh, lead singer of last year's Canadian-Lebanese headliner Wake Island, and recent member of How Sad, also part of the 2014 lineup.
For the fourth year in a row, Junior Daou and his family open their large swath of land for a day of music, art, a... [more]
At Least Dubai Acknowledges Unconventional Beauty Kicks Tatted Man Out For "Black Magic" More Like He was Too Sexy!
-But Berlin DJ predictably denied into Lebanon for Israeli stamp
You know what, I'm glad the Middle Eastern Gulf region is taking into account all kinds of sexy when it comes to deporting men.
Because the most recent deportee is a 55-year old German man, Rolf Buccholz, internationally known for holding the Guinness World Record in having the most body piercings.
Buchholz flew to Dubai to party it up at Circque le Soir, a club that pro... [more]
Lofoten in All Its Glory My Summer Vacation in the North of Norway
Norwegians are the masters of understatement. When something is gargantuan, they'll say 'It's a bit big' and when something's breathtakingly beautiful, they'll say 'It's nice.' If a friend made a $10 million profit on a business deal, they'd claim he made 'a bit of money.'
I still don't understand whether it&... [more]
An Imaginary Interview With Bleachers! After an Intimate Concert at a Huge Festival in Norway
-I was the only dancer and they noticed
.viddid_thumb { overflow: hidden; }
It All Started With Lena Dunham
In March my sister, Margaux, sent me a Youtube video with a perfectly succinct message: "This is Lena Dunham's boyfriend. She directed the video." Dunham's boyfriend is the guitarist of Fun and start... [more]